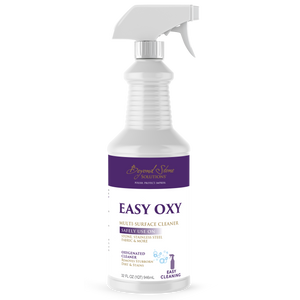 Experience the convenience of Easy Oxy—a versatile cleaner that effortlessly tackles a myriad of surfaces! This non-abrasive solution is your go-to for safe cleaning on delicate materials such as stainless steel and stone. Worried about harmful chemicals? Easy Oxy is non-toxic and biodegradable, ensuring an environmentally-friendly choice. It excels in removing tough stains like grease, ink, crayon, lipstick, coffee, soda, tea, Kool-Aid, pet stains, grass stains, red wine, and more, promising to restore surfaces to their pristine condition. Plus, it leaves behind a refreshing, clean scent that transforms your space.
From marble to granite, engineered quartz to glass, tile to stainless steel, appliances to fabrics—Easy Oxy works its magic on them all. Embrace the effectiveness of Easy Oxy Multi-Surface Cleaner and simplify your cleaning routine. This all-in-one cleaner handles a range of challenges, providing sparkling results.
But that's not all—Easy Oxy's powerful yet safe formula, fueled by hydrogen peroxide, effortlessly deals with surface stains and odors. With its delightful mild citrus scent, Easy Oxy is perfect for refreshing and cleaning bathrooms, showers, and unexpected kitchen spills. It excels in deodorizing areas like the commode, garbage collection spots, and eliminating pet, carpet, and grout stains.
A true champion against stubborn oil and grease, Easy Oxy is a must-have for restoring kitchen stoves, exhaust overheads, countertops, and microwaves. It leaves surfaces sparkling clean, streak-free, and pleasantly scented. You can confidently use it daily without worrying about product build-up or damage to precious stone surfaces.
For tough build-up situations, liberally spray Easy Oxy, let it work for 10-15 minutes on the stone, then wipe and rinse clean.
Designed to effortlessly clean various surfaces, Easy Oxy is completely safe for delicate natural stones like marble, thanks to its special pH-neutral formula. Unlike other cleaners that may damage or etch marble, Easy Oxy is gentle yet effective, making it suitable for daily or multiple uses without concerns.
Safe to use on:
Marble
Granite
Other natural stones
Metal
Furniture
Plastic
Fabric
& more!