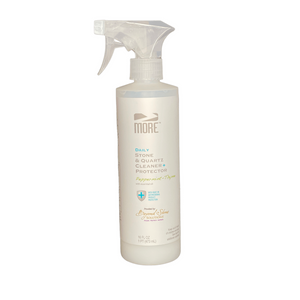 Now with antimicrobial protection. An improved formula to assure your stone and quartz cleaning performance that:
Cleans and protects from microbes.

Completely safe for your natural stone and quartz surfaces.

Dirt and grime have met their match. The cleaner breaks down these components.

Streak free with a pleasant, refreshing scent.
The new More™ Stone and Quartz Cleaner contains antimicrobial properties that helps prevents the sprouting of those pesky problem creators. We're talking about mold, mildew and bacteria.
A 3-in-1 purpose. Our newly formulated product operates as a daily cleaner and antimicrobial protector that specializes in cleaning and protecting unrefined stone and quartz exteriors or surfaces. With its neutral pH formula, it is safe to use every day without compromising the quality of the sealer.

What surfaces does our cleaner work on? It works for a variety of stones: such as marble, granite, quartzite, travertine, limestone, soapstone, slate, basalt, and even on other natural stones and quartz.

See the safety data sheet: Safety Data Sheet